TEACHING CLASSROOM GUITAR
Text Book & Desk Reference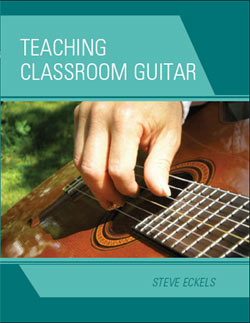 ISBN 978-1-60709-389-3
Published by R&L Education.
Available from Amazon.
262 pages
The first comprehensive teaching manual for guitar, Teaching Classroom Guitar will help you engage your students with relevant content.
Designed to get the most out of your chosen method book, it can easily serve as a college textbook or as a desk reference for teachers at all levels.
Written by a master classical guitarist with fifteen years of classroom guitar teaching experience, the book provides outlines for daily, weekly, and semester planning.
An outgrowth of Steve Eckels's summer seminars for teachers, the book covers it all - from planning, assessment, and music reading to chords and music theory, jazz harmony and improvisation, remedial techniques, and more.
Reproducible templates for assessment, grid and staff paper, and worksheets make it easy to implement the instructional strategies.
The extensive listing of popular songs by grade level make choosing repertoire easy. Discover the excitement of teaching this popular and motivating instrument.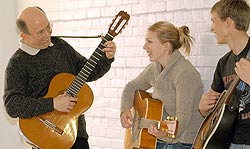 "A master teacher who truly loves his craft, but more than that, wants to pass on that passion to young people and those that teach them."